Business donations of surplus product turn into affordable housing and a tax deduction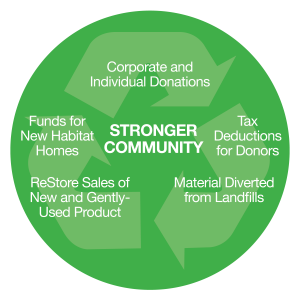 The ReStore is a great asset to contractors, demolition crews, property managers, retailers and anyone challenged with removal or disposal of building materials or surplus product. Business donations to the Mankato ReStore of mis-orders, scratch and dents, overstocks, discontinued items or a storeroom clean out offer tax deductions and reduced shipping and waste costs.
Support affordable housing – and stronger communities – in the counties of Blue Earth, Le Sueur, Nicollet, Sibley, and Watonwan
Reduce dumpster fees and return shipping costs
Free up employee time with Mankato ReStore's free pickup service or convenient receiving/loading dock
Receive tax deductions for donations to a 501(c)(3) organization
Get good, FREE! PR – the Mankato ReStore publicly recognizes business donations each month, including thanking companies through our Facebook page of more than 2,800 followers, as well as other social media
Business donations put the "store" in Mankato ReStore
Your donations help supply the Mankato ReStore with appliances, building materials, and furniture, which we sell to the public at a discount. All profits from the Mankato ReStore help fund Habitat for Humanity homes in our service area.
Please contact us to request a site visit or ask unique questions about business, contractor or retailer donations.
How can we help you?
Contact us to discuss a possible business donation of building material, appliances, hardware, or other home improvement items.