Business donors turn surplus product into affordable housing and a tax deduction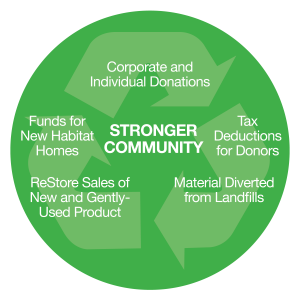 The ReStore is a great asset to contractors, demolition crews, property managers, retailers and anyone challenged with removal or disposal of building materials or surplus product. We are a perfect solution for your mis-orders, scratch and dents, overstocks, discontinued items or storeroom clean out.
Support affordable housing – and stronger communities – in the counties of Blue Earth, Le Sueur, Nicollet, Sibley, and Watonwan
Reduce dumpster fees and return shipping costs
Free up employee time with Mankato ReStore's free pickup service or convenient receiving/loading dock
Receive tax deductions for donations to a 501(c)(3) organization
Get good PR – the Mankato ReStore is standardizing a process for publicly thanking business donors, including through our Facebook page of 2,700 followers, other social media, and on mankatorestore.org
How can we help you?
Contact us to discuss a possible material donation from your business.