Donation drop off at the Mankato ReStore
If you're interested in donation drop off at the Mankato ReStore, we accept donations of new and gently-used quality building materials, appliances, furniture, and hardware during donation hours or until full. All donations are tax-deductible and staff or a volunteer will provide receipts upon request.
Please take a moment to review our Donation Acceptance Policy. The purpose of this list is to provide a general outline for items we do and do not accept; however, it is not complete. If you have any questions regarding your donation drop off, please contact us.
As you can understand, not every used building material or appliance has high demand for resale. We are somewhat selective in the donations we accept to ensure that ReStore profits flow directly into building Habitat homes.
Items that the Mankato ReStore does not accept include:
Computers, clothing, televisions / electronics, cribs, mattresses, household items (e.g. dishes), commercial desks, old wood entertainment centers, fireplace inserts, oil-based paints, chemical solvents, storm windows, used shower doors. Please see our Donation Acceptance Policy for more details.
Tuesday - Friday: 10 a.m. to 5 p.m.
Saturday: 10 a.m. to 3:30 p.m.
Sunday and Monday: Closed
If you have a large donation that you will be dropping off, we would appreciate a call in advance to help us prepare! Please call 507-388-6682 and we would be happy to help you. Thank you!
Note: Donations are not accepted after hours. Anyone leaving items or material after business hours may be subject to prosecution. Thank you for your cooperation.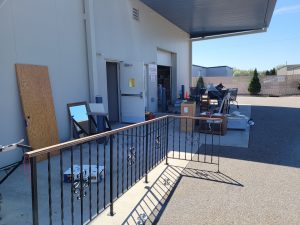 Mankato ReStore donation drop off is located at the back (north side) of the building. Staff and volunteers are available to assist with unloading items.