Tuesday - Friday: 10 a.m. to 5 p.m.
Saturday: 10 a.m. to 3:30 p.m.
Sunday and Monday: Closed
If you have a large donation that you will be dropping off, we would appreciate a call-in advance to help us prepare! Please call 507-388-6682 and we would be happy to help you. Thank you!
Note: Donations are not accepted after hours. Anyone leaving items or material after business hours may be subject to prosecution. Thank you for your cooperation.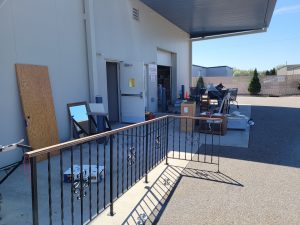 The drop off location is in the back of the store. Staff and Volunteers will help with unloading your donation.
Everybody Wins When You Donate To The ReStore
Funds from sale of items help build Habitat homes for those in need

Tax deduction for donation to 501(c)(3) organization
Help divert material from local landfills
Down-size or declutter
Donation Acceptance Policy
All Donations are subject to approval!
We accept gently used or like new items, we need them in working order to be able to sell them. All pieces should be included with the items as well.  Ask yourself if you would keep this item in your home or shed.
Appliances
All appliances must be in 100% working order, clean
Automotive Supplies
We take in original labeled oils, and automotive tools.
Bathroom & Kitchen Items
Cabinets
 Cabinets must be complete; no individual cabinet components (cabinet doors).
Cash donations
Doors
We do not accept commercial doors, mirrored closet doors, or shower doors.
Electrical
Flooring
Hard Wood Furniture
Must be structurally sound (Not in need of repair) No rips or tears
Hardware
Heating, Ventilation, Air Conditioning (HVAC)
Landscaping Material/ Lighting
Lumber/Trim/Sheet Goods
Denailed quality lumber must be in 6-foot lengths or more; sheet goods, 1/2 sheet or more.
Paints
 We only take in full paint products that have never been frozen
Plumbing
Roofing
Shingles must be full, unopened packages
Tile
Tools
Power tools must be in working condition, with batteries/chargers
Windows
          No Blinds or shades - Unless new in box                       No single pane windows
Donations We Do Not Accept
unfortunately, we cannot accept every donation that we receive, some maybe to old, not in the condition that we require or just a seasonal item that is out of season. For more information about items we do not take, check out our list below.
Bifold doors
Bathroom Sinks/Vanity tops (unless with cabinet)

Chemical solvents

Clothing

Commercial desks

Computers

Cribs

Couches

Entertainment centers

Exercise equipment

Household items (e.g. dishes)
Loveseats / Recliners (upon approval)

Mattresses, Box springs, headboards or footboards

Mercury thermostats

Mirrors with no frame

Office desks

Old wood entertainment centers

Oil-based paints

Siding or long building materials

Storm windows

Shower doors

Televisions / electronics
Follow Us On Our Socials For Updates