Donating to the Mankato ReStore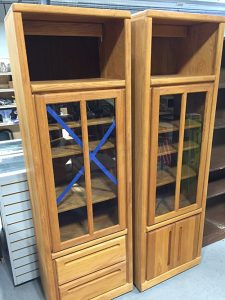 The Habitat for Humanity South Central Minnesota ReStore receives new and gently-used donations from individuals, building supply stores, contractors, home builders, interior designers, and area businesses. Donations made to the ReStore are tax-deductible and 100% of the proceeds support Habitat's mission of providing affordable housing for those in need. Plus, you'll be keeping good, reusable items in use and out of landfills.
ReStore Capital Campaign: Buy a Brick
You can have a permanent impact on your community by supporting the Habitat ReStore Capital Campaign. By buying a brick, you are contributing to affordable housing in your community. You also help the Mankato ReStore's efforts at reducing the demand on local landfills and providing inexpensive home improvement materials to local homeowners. Brick donors' names are placed on the front wall of the ReStore, near the entrance.
4" x 8" bricks: $100 ea.  |  8" x 8" bricks: $250 ea.
Donate goods to the Mankato ReStore to clear clutter and make a difference.
We accept appliances (less than 10 years old), cabinets, doors, electrical items, furniture, tools (power and hand), hardware in good quantities, light fixtures, lumber, paint (full or mostly full), plumbing, roofing (shingles/full bundles), tile, and HVAC. Drop off during regular ReStore hours, or for larger items, schedule a pickup.
Habitat for Humanity South Central Minnesota EIN: 41-1654111
We have learned from experience we cannot accept the following items:
Automobile parts
Children's items or toys
Clothing
Exercise equipment
Hazardous materials
Medical equipment
Musical instruments
Pesticides or fertilizers
Pianos and organs
Textiles
Toxic chemicals